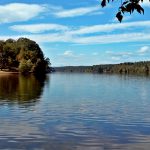 The driving force in starting Friends of the Valdese Rec (FVR) in 2015 was to acquire 300 acres of land at Lake Rhodhiss between the Wastewater Plant and McGalliard Falls and construct a park with trails, kayak launch, disc golf, playground and picnic areas. Closing on the property was Jan 31, 2018 (Ribbon Cutting in March). Now, we are working to build the park!
The following history covers the forming of the group and major events relevant to Valdese Lakeside Park. It does not cover all FVR workdays, programs, events, talks to groups and meetings that have taken place since April 2015. (See about for a general list of projects.)
Beth Heile started the Friends of the Valdese Rec Facebook page on February 6, 2015. The next week, she and Roy Sweezy met with the new Town of Valdese Mayor, Chip Black, to discuss the idea of acquiring 300 acres on Lake Rhodhiss for a passive park for Valdese; and a Friends of the Valdese Rec Interest Meeting was held. The Town of Valdese Parks and Recreation Plan by WPCOG with community surveys references a park on Lake Rhodhiss.
In March, Beth presented at the Town Council meeting that Friends of the Valdese Rec was organizing and would be pursuing the acquisition of the land. Later in the month, FVR members met with Town Manager Jeff Morse to discuss the process and at another member meeting started discussing features of the park.
April 1, 2015 – The official FVR Organizational Meeting was held to appoint the board, approve by-laws, etc. Original board members present: Beth Heile, Roy Sweezy, Don Brittain, Sandy Terrell, Sonni Dyer, Mark Rostan, Andy Byers. Beth attended the April Council Meeting to keep them informed.
On April 14, the FVR Board met with Don Reid of Crescent Land (owner of the 300 acres – part of Duke Energy) to discuss the land acquisition. Jeff Morse, Chip Black and Doug Knight were in attendance. The meeting did not go as hoped and the next week Jeff and Beth met with Foothills Conservancy of NC for advice.
At the June 1 Council Meeting, the council approved a contract with Foothills Conservancy to help with the process. This included negotiating with Crescent Land and an appraisal was part of that. FVR raised $2650 for the Land Appraisal during the month. Two FVR Info Meetings were held in September to gather feedback from community.
By November, a Valdese Lakeside Park Plan created by FVR was available to explain details of park (location, parcel size, future amenities – hike, bike, kayak, fish, disc golf, picnic, etc) and why Valdese needed the park. Covering conservation, economic impact and enjoyment of the community – the plan was helpful in generating interest in the acquisition. Later in the month, it was confirmed Crescent sold the land out from under FVR and FVR returned appraisal donations.
Foothills Conservancy continued to work on the project and in January 2016 the new property owner agreed to sell the property to the town. FVR again raised money to pay for the appraisal to be used in negotiations ($2500 in June). Once there was an offer in place (contingent on the town receiving 2 state grants), Friends of the Valdese Rec started fundraising for the land purchase.
In December, 2016, the Rostan Family Foundation pledged $300K to the Valdese Lakeside Park project, if all other funding was acquired. Using the land purchase plan created by Foothills Conservancy ($1M state grants – Clean Water Management Trust Fund and PARTF, $365K community donations), FVR's first goal was $100K to help with the purchase of the land and some amenities. The entire $100K was covered by Kellex in a meeting on Feb 16, 2017.
That success was immediately announced and the goal changed to $150K+ for amenities (park plan, greenway, trails, kayak launch, disc golf, fishing pier, picnic area, rest rooms, parking, etc). FVR requested "pledges" (Pledge Request Sheet Used) until the town received the Clean Water Grant and the PARTF grant to purchase the property (pledges due Dec 1, if grants awarded). In April, it was announced CHS-BR pledged $50K to the project.
September 2017 brought the great news that the town received both grants needed to purchase the land. ($1M state grants – Clean Water Management Trust Fund and PARTF, $365K community donations)
In September, a Scope of Services document was created for Destination by Design (DbD) to develop the master park plan. At the October Council Meeting, the contract was approved with the town and FVR splitting the cost of the plan.
FVR planned a November 3, 2017 Celebration inviting all pledgers and the community to celebrate the success. Every pledge was paid – 100% who said they would donate did – knowing their donations were going to amenities. Donor List
Public Input Meetings for park amenities input started in November, 2017
11/14/17 Disc Golf Meeting – 1st Meeting with FVR
11/17/17 Town of Valdese Department Heads with DbD
11/30/17 Mountain Bikers Mtg – 1st Meeting with FVR
12/05/17 Park Amenity Public Input Meeting
01/08/18 Rec Commission Meeting combined with Runner Input on Park
01/10/18 DbD Meeting with Disc Golfers – General Public Invited to learn more
01/10/18 DbD Meeting with Mountain Bike
03/29/18 Ribbon Cutting at Property – Public Invited
Since closing on the property, Friends of the Valdese Rec has marked and mapped existing trails and has been maintaining them with monthly park workdays. A picnic area with four tables built by Kellex has also been added. Monthly group walks along the greenway have helped people become more familiar with the park. FVR has also hosted group trail runs, a beginner mountain biking day, National Trail Day events, Tails & Trails (walks on the greenway with your dog). It is a goal of FVR to get people outdoors and to enjoy the beautiful asset that Valdese Lakeside Park is.
04/03/18 Park Plan Preview by DbD for Public Input
05/01/18 Council Workshop about VLP by DbD
In May, with the property in hand and a completed Draft Master Park Plan, DbD started working with FVR and the town to formulate a grant strategy for amenities. Once the plan was finished in July, FVR increased the fundraising goal to $200K to match grants that would be applied for starting in December 2018.
07/09/18 Public Q&A Session with Doug Knight – how amenities will be built at Valdese Lakeside Park using grants and donations from the community
March 13, 2019 – Public Input Meeting to Town regarding grant applications for 2019
May, 2019 – The Town received an Award Letter from NC DEQ Water Resources announcing the receipt of a $200K grant for 4000 linear feet of greenway, permeable parking and storm water control. This is $200K to match our donors' $200K to start a 10 ft wide crushed cinder greenway along Lake Rhodhiss and McGalliard Creek. Along the way, DEQ added another $60K to the project
August, 2019 – The Town received a $285K PARTF Grant is for restrooms, picnic area, dog park, wildlife viewing platform, kayak launch, walking trail to viewing platform, parking, entry road at Valdese Lakeside Park. The DEQ awarded grant and community donations will cover the match.
December, 2019 – The town did not receive the Recreational Trails Program Grant for $100K to match donations from community. This grant was to help pay for a bridge across McGalliard Creek to complete the trail from McGalliard Falls Park to Valdese Lakeside Park – creating a 2-mile greenway connecting the parks. Now, FVR will need to raise the entire amount of the bridge.
Late 2019-Early 2020 – FVR transferred $77,000 to the Phase 1 Valdese Lakeside Park Project Construction account. This money was from individual donors for the park project.
November, 2020 – The town did not receive the the Recreational Trails Program Grant for $250K for a mountain bike trail system.
November, 2020 – FVR received a $7051.89 grant from CFBC for benches along the greenway.
January, 2022 – RTP Grant for $100K for bridge, $57K for bridge and $51K for greenway to bridge (both state funds)
December, 2022 – Rostan Family Foundation provided $125K, State appropriation of $100K from Rep Blackwell and $25K from the community allowed for the completion of the greenway to be all 10- foot wide crushed cinder
October, 2023 – NCWRC added $170K in design and construction of the Kayak Launch/Fishing Pier to already held $30K PARTF/Community Donations
Early 2021 saw the engineering and Construction details are being finalized for Phase 1. With a budget of $862,001, this phase will include 4000 lin ft of greenway, restrooms, picnic area, dog park, wildlife viewing platform, kayak launch, walking trail to viewing platform, parking and entry road. The funding comes from grants (PARTF and DEQ) and community donations. No town money is being used. Construction was set for Fall 2020 but has been delayed due to permitting from DEQ.
December 2021 – Construction complete for Greenway, Parking, Restrooms, Overlook.
Volunteers built 1.5 miles of hiking trail in 2022.
Dog Park: The J Alex and Vivian G. Mull Foundation Charitable Fund awarded FVR a grant for fencing — if we raised $5000 from the community. For extra motivation, Farris Insurance Agency matched community donations up to $5000. We have $22K for the dog park construction. The dog park opened in May 2022. Obstacles were added in August 2022.
McGalliard Creek Suspension Bridge: The July 2022 amenity was the 160 foot suspension bridge over McGalliard Creek that completed the connection from Valdese Lakeside Park to McGalliard Falls Park. $50K in community donations, $57,500 as a direct grant from the state and a $100K RTP grant.
1 Mile Greenway upgrade: April 2023 – 1 mile of greenway (half of McGalliard Falls side and half on VLP side) converted from grass to 10-foot wide crushed cinder.
Kayak launch fishing pier opened officially Sept 28, 2023.
To date (10-07-2023) – for appraisal to start purchase negotiations, land purchase, phase 1 amenities, McGalliard Creek bridge, improved greenway
Private Donations: $1,230,000
Grants (State): $2M
Total Project: $3,230,000
Valdese Weaver Gift of 6.77 acres at Lovelady Road
Shaw-Tate and Caldwell Timber Gift of 20 acres for McGalliard Creek Greenway
Volunteer hours at VLP after January 31, 2018 closing (not promotional events, just work)
2018: 330 hours
2019: 388 hours
2020: 736 hours
2021:  1090 hours
2022: 980 hours
2023: 825 (7-1-23)
Donate Today to help with park amenities.