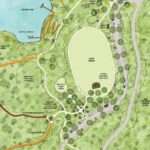 Donations Needed for Amenities Current donations will help fund Phase 1 amenities. Groundbreaking will be in May 2020 and completed Winter 2020 (hopefully). Donors of $100 and above will be recognized at the park and on our web site.
Donate Today via Mailed Check  or Paypal Link
You can also use the Donate button on our Facebook Page – we are charged no fees for this service.
Where we stand with donations and grants?
$277K in Donations from the Community
May 3 – Awarded $200K DEQ Grant for 4000 linear ft of greenway, storm drainage and some permeable parking – must match with $200K of Community Donations
August 23 – Awarded $285K PARTF Grant for restrooms, picnic area, dog park, wildlife viewing platform, kayak launch, walking trail to viewing platform, parking, entry road. The DEQ grant and community donations will cover the match.
Recreational Trails Program Grant – Requesting $100K to match $25K from community
to help pay for a 200-foot bridge across McGalliard Creek to complete the trail from McGalliard Falls Park to Valdese Lakeside Park – creating a 2-mile greenway connecting the parks. Estimated cost of the bridge is $200K. Pre-Application filed March 1, 2019. Granted permission to submit final application. Award will be Oct/Nov.
What else do we need?
Donations to make Phase 1 the best it can be!
Support Friends of the Valdese Rec's mission by leaving us a bequest. A bequest is a gift made to charity in your will or trust. Below is some basic bequest language to assist you and your attorney.
I hereby, give, devise and bequeath $_______ or _____% of the remainder of my estate to Friends of the Valdese Rec, Inc. , a non-profit organization located in Valdese, NC, Federal Tax ID #47-3614341, to be used for its general purposes.
Thanks to these generous donations for the land purchase
Rostan Family Foundation – $300,000
Kellex Seating – $100,000
Grants will also be applied for to help pay for the park. If you know of grants not on this list, let us know. Showing the community supports the park via donations is helpful in the grant application process.