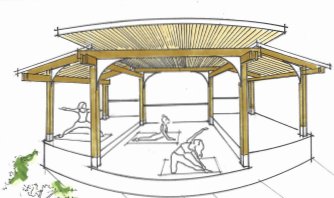 Donors – $1000 and up for Pavilion Listing
Christa and Tommy Miller – $2000
Mears Insurance Group – $1000
Chip and Tammy Black – $1000
Julie Zimmerman & Derrick Killian – $1000
Roy & Phyllis Sweezy – $1000
Donors – others
Elsie Whisenant – $100
Joy Harding & Debbie Tozzo – $100
Debbie Bradley – $50
Annette Skidmore – $100
Karen & Carlton Caruso – $500

Fundraising is underway for a Pavilion and Amphitheater at Valdese Lakeside Park.
The Pavilion will serve as a "family room," a gathering space for the community to take part in classes, meals, awards, exercise, meet ups, entertainment (movie, music, drama) and shelter (from rain and sun). The flexible design will allow for picnic tables to be placed on the slightly raised platform for a community meal or removed for an educator or local theater performance to be center stage with the picnic tables scattered around the grassy lawn. This heart of the park will unify visitors seeking comfort in the natural forested environment with a lake view. Having an established space will encourage more organizations, including our own, to offer free programming at the park.
David Harmon Architecture created the unique design and Table Rock Custom Builders is helping with construction planning. Both are Valdese based. The structure will blend in with nature and be located in the northeast corner of the Open Green along the greenway. The estimated cost of the project is $250K that includes design, engineering, permitting, grading, construction, power.