On Tuesday, May 1, a workshop was held for council to learn more about the Valdese Lakeside Park project and funding options. Although the public is not allowed to participate in these workshops, they are welcome to observe. About 40 people were present.

The first presenter was Eric Woolridge of Destination by Design. He covered the park plan, mostly as presented on April 3 to the public, with the addition of the public input from that meeting and a budget for the park.
He said even though the design was that of destination quality (created to bring people to visit and for return visits), Valdese would have to promote the park, promote the Valdese downtown offerings at a kiosk at the park and more. With I-40 exit 111 being updated, this is a prime time to consider signage directing people into downtown Valdese.
As his firm also does consulting on downtown branding, he offered the knowledge that towns are most likely to thrive with these 3 things:
Vibrant Main Street (which we are on our way to)
Stand Out Feature worth the drive (which Valdese Lakeside Park would be)
Linear Trail connecting to other parks/places (could be in future – see meeting of Trails People)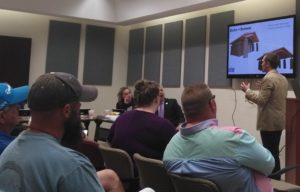 Questions were asked about how Valdese Lakeside Park fits in with area parks and possible competitive events.
Mountain biking and disc golf are available at other parks in Western NC.  However, parks can be complementary. Having several choices of these amenities in an area will be a draw for outdoor enthusiasts to visit our area and try what each park has to offer. They may spend a day at Valdese Lakeside Park using the mountain bike trails as a warm up and then visit Lake James' trails. If there is a disc golf tournament, area courses could be used together for starting rounds.  For other competitions, a Burke County middle/high school team started this year and can use VLP for practice and their competitions. Trail runs and XTERRA triathlons can be offered.
Eric did mention that Valdese has great design taste – that from the options presented on April 3, citizens chose all the high end options for buildings, trash cans, lighting, benches!
Destination by Design May 1 Slides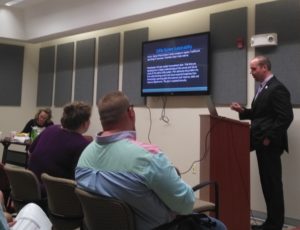 Town Manager Seth Eckard spoke next. He answered questions that had been floating around town as to plans for our infrastructure and maintenance of current parks.
Next he discussed a tax adjustment to pay for the park. He recommended a 3.5 cent addition to the tax rate to cover the loan payment. If you have a $100,000 home – that will be $35 in tax.
Why this amount?
1 cent tax revenue = $35,628 to town per year
USDA Loan $2.65M = $124k payment per year
3.5 cent x $38,628 = $124k
Park Cost: $3.2M = $2.65M loan + $400k grant + $125k in hand
This evening the Town of Valdese will launch a new web page devoted to the Valdese Lakeside Park project with video of last night's meeting, slides, details, etc.
To express your thoughts on the project
Attend Public Input Meetings – May 31 and June 12 at 6:30 pm in the Town Hall Community Room. You will be able to ask questions and state your opinions.
Attend a Town Council Meeting and sign up to speak during the Public Forum – May 7, June 4, June 25 at 6:00 pm at Town Hall.
Contact your Town Council