South Mountains State Park to Valdese Lakeside Park? How did it happen?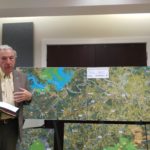 The talk of trails connecting parks and trails across Burke County was a message first presented on April 13, 2018 to Valdese and Rutherford College Officials by Bryant and Linda Lindsey, at the request of Rep Hugh Blackwell. From that meeting, it was determined to connect the mountains in our back yard (the South Mountains) to the lake off our front porch (Lake Rhodhiss) there would need to be safe passage across I-40 for bicycles and pedestrians. Rep Blackwell suggested a meeting with DOT to learn more about making a bridge safe for these groups.  More detail on the April meeting

On December 18, 2018, a meeting was held in Valdese with NC State Parks and NC DOT to discuss the process of how to request I-40 crossing bridges be pedestrian/bike friendly and how to make sure all groups interested in regional trails are working together in a productive manner. After several months (deciding on which bridge and making the request), the end result was the Exit 111 bridge across I-40 will be bicycle and pedestrian friendly. More details on the December meeting and process for bridge request
Because we have Valdese Lakeside Park, Valdese was included in possible routes for a state trail. The trail is about connecting parks, trails and greenways.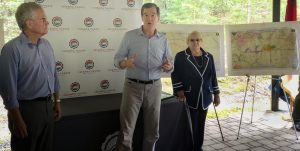 On June 3, the Wilderness Gateway State Trail was signed into law. A state trail is like a state park – but linear. Governor Cooper visited Bakers Mountain in August to make the formal announcement. News story about trail going through bill process.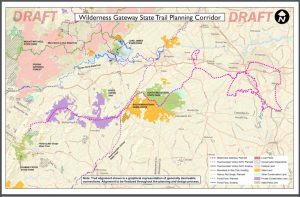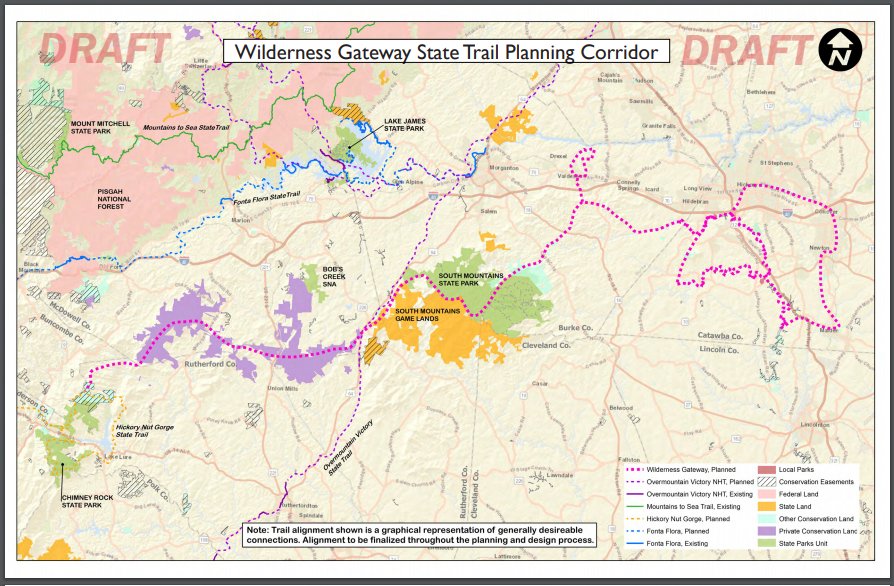 Also in June, work on a Concept Plan for the Wilderness Gateway State Trail started. The general route of the trail would link Bakers Mountain, Valdese, South Mountains State Park and Chimney Rock State Park. Smith Raynor from NC State Trails Planning came to Morganton to meet with representatives from Burke County, Valdese, Friends of the Valdese Rec, Foothills Conservancy and Overmountain Victory Trail to get feedback on where the trail should run in our area. News Story The final version of the concept plan is due December 1. The diagram shown is a concept plan, a work in progress – not the Final.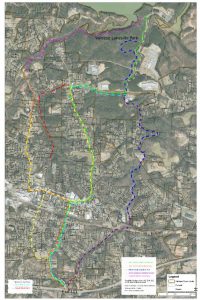 Parks and Rec Director Doug Knight and FVR President Beth Heile worked on suggestions of how the trail would access Valdese Lakeside Park, McGalliard Falls Park and Downtown Valdese. The diagram submitted with possible routes is shown on the left. Roads will be the quickest path to implement, but they need sidewalks to be promoted as a state trail. (The WalkRCV study already has Carolina and Lovelady at the top for sidewalks.) Once the bridge is put in across McGalliard Creek to connect Valdese Lakeside Park and McGalliard Falls Park, there will be a perfect loop trail for those coming from across I-40 to see many of Valdese's parks, attractions and downtown. Don't forget —  We are still fundraising for the bridge!! A Recreational Trails Program Grant has been applied for to help pay for the bridge. Being a part of a state trail gives the application a higher ranking. Another bonus!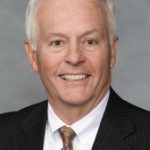 Many people have been involved in the discussions of State Trails, the paths they would take and making it happen. Just to note one, Representative Hugh Blackwell has been a big part of making the Wilderness Gateway State Trail happen and keeping Valdese in the loop (pun intended). We are deeply grateful for your work, Representative Blackwell!!