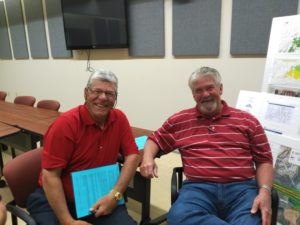 A trail from Valdese Lakeside Park to South Mountains St Park? or to Baker's Mt? Interstate bridges are being updated – let's make sure they have pedestrian and bike lanes.
That was the message presented on April 13 to Valdese and Rutherford College Officials by Bryant and Linda Lindsey, at the request of Rep Hugh Blackwell.
Town of Valdese Mayor Chip Black and Town of Rutherford College Mayor Gary McClure discussed a possible loop trail between the 2 towns.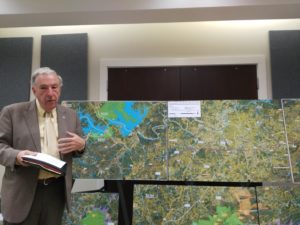 Using large maps, Bryant Lindsey (of Overmountain Victory Trail) showed how state and local parks can be connected – with a little planning. Linda Lindsey talked about meetings held with other groups and the importance of sharing ideas – instead of working in your own little corner.
Town Managers from Valdese (Seth Eckard) and Rutherford College (Kenneth Geathers, Jr.), RC Councilman Annas thought over the possibilities. Valdese and Rutherford College could be the Eastern Gateway to South Mountains State Park. Hugh Blackwell suggested a meeting with DOT.