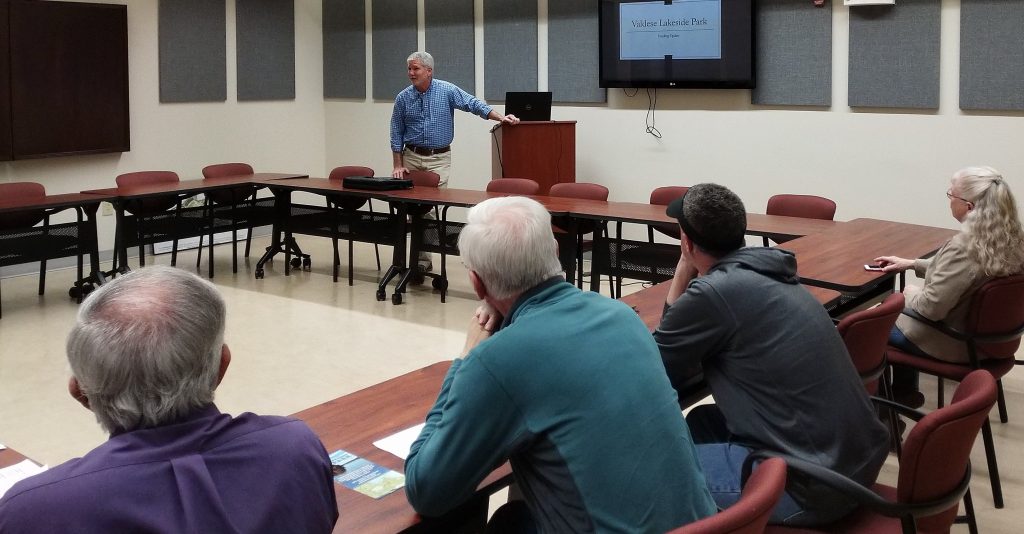 Parks and Recreation Director Doug Knight spoke to the public on March 13 about Valdese Lakeside Park and what the PARTF grant would include. The grant application, due on May 1 and being completed by WPCOG, will request funds for restrooms, picnic area, dog park, wildlife viewing platform, kayak launch, walking trail to viewing platform, parking, entry road for around $300K. These are items in the Master Park Plan.
Summary of all grants–
NC DEQ Grant – Requesting $200K to match $200K in donations from community
This grant is for a 10-foot-wide crushed cinder greenway along the lake and creek, permeable parking area and responsible storm water drainage. The application was filed on December 31, 2018. Award will be late April/early May.
Recreational Trails Program Grant – Requesting $100K to match $25K from community
This grant is to help pay for a 200-foot bridge across McGalliard Creek to complete the trail from McGalliard Falls Park to Valdese Lakeside Park – creating a 2-mile greenway connecting the parks. Total cost of the bridge is $250K. Application filed March 1, 2019. Award will be Oct/Nov.
NC Parks and Recreation Trust Fund Grant – Requesting $300K to match DEQ/Community
This grant will fund Phase 1 Amenities at Valdese Lakeside Park such as restrooms, picnic area, educational overlook. Application will be filed by May 1, 2019. Award will be Aug/Sept.
Donations are still being accepted. The more we have, the more we can build.