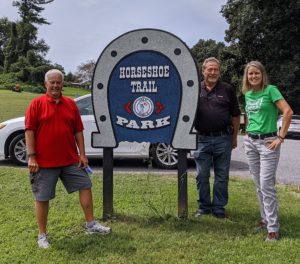 The Burke River Trail town tour continues with stops in Rhodhiss and Hildebran. On Monday, Representative Blackwell, FVR President Beth Heile and representatives from Western Piedmont Council of Governments (WPCOG) got a tour of Town of Rhodhiss from new Town Manager Rick Justice. Justice took the group to the Rhodhiss Boat Access on Weaver Lane which would be an incredible stop on the trail with restrooms and parking. The town-owned Horseshoe Trail Park was also a must see. It includes a walking path across the old dam, kayak launch, and views of the current Rhodhiss Dam. Robin Nicholson, Duke Energy Government and Community Relations said Duke Energy has archived pictures of the construction of Rhodhiss Dam that could be used for educational signage along the trail near the dam.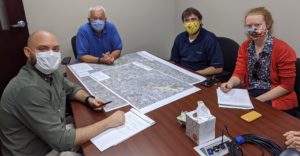 On Wednesday, the same group met with Town Manager Logan Shook in Hildebran. Though Hildebran does not sit on the river, the goal of the Burke River Trail is to reach the small towns in eastern Burke County whether on the main trail or as connectors. Hildebran could travel north, possibly along a creek, to connect to the trail. Looking at the maps during the meeting, attendees noted there is also the opportunity for the town to head south with a trail to access the Wilderness Gateway State Trail. In addition, the town is not far from the future Hickory trail system. Hildebran may not be on the river, but the town looks to be in a good location for trail access and could aid in creating trail loops.
Each town visit is part of the WPCOG's feasibility study for the Burke River Trail. There have been meetings with Town of Valdese, Burke County Public School System, landowners and Rutherford College. While looking at a map is a good start, locals can provide information about town features, access points, existing social trails and more that are not always on a map. Information collected through in person and online meetings will help determine the best corridor for the trail.