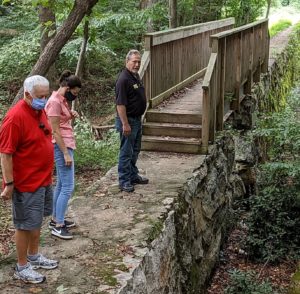 The 25-mile Burke River Trail (now known as the Catawba River Trail) will start at the end of the the current Catawba River Greenway (Rocky Ford at US 64/NC 18) in Morganton and follow the south side of river through Drexel, Valdese, Rutherford College, Connelly Springs, Rhodhiss, Hildebran and Long View.
The idea of bringing trails to eastern Burke County is the vision of Representative Blackwell.  Knowing that trails generate economic activity, provide bike and pedestrian transportation, improve citizen health and are better for the environment than other development options, he wants eastern Burke County's small towns to reap these benefits. WPCOG is leading the trail feasibility study and Beth Heile, Friends of the Valdese Rec President, is coordinating efforts.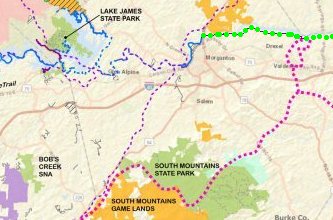 Other Connections: The Burke River Trail/Greenway Expansion (green dots) will connect to or cross the 3 State Trails: Fonta Flora State Trail (purple dash to Lake James), the Wilderness Gateway State Trail (large pink dot SMSP to Valdese) and the Overmountain National Historic Trail (pink/purple dash). Huge loop opportunity!
Proposed Routes: Routes are being updated after shareholder meetings – Full Map
Segments: Regional trails are often built in segments as stakeholders along the path are able to contribute and as right of ways are obtained. With Valdese Lakeside Park's 2-mile greenway being engineered, one segment can be announced – McGalliard Falls Park to Valdese Lakeside Park. Growing from there to the east, the potential exists to work with Burke County BOE and Draughn High School and then Natural Land Alliance, Inc. This gives a 4-mile segment to branch out from.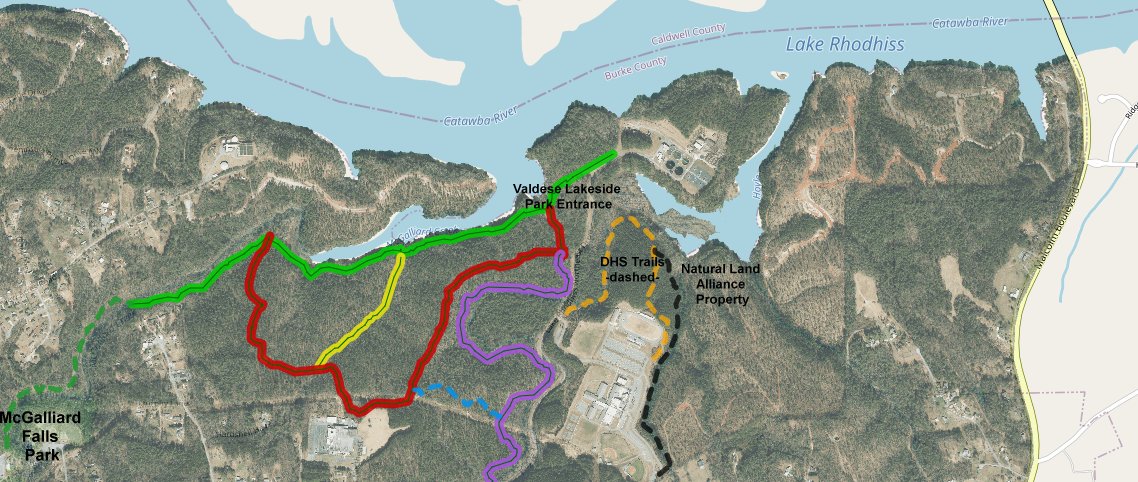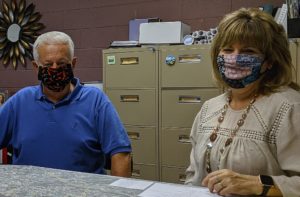 Stakeholders: Burke County, Towns along Route, WPCOG, Friends of the Valdese Rec, Foothills Conservancy of NC, Natural Land Alliance, Inc, Property Owners, Burke County Tourism, Burke County Public Schools, Draughn High School, HOAs along the route, NCWRC, Duke Energy, Representative Blackwell
Action Items and Meeting Summaries
Representative Blackwell contacted Burke County and WPCOG for direction (Jan-Feb 2020) Present at Burke County meeting: Rep Blackwell, Beth Heile, Shane Prisby, Scott Carpenter
Initial Map created by Shane Prisby, Burke County (Jan 2020)
WPCOG Planners Alison Adams and John Wear and FVR President Beth Heile created list of stakeholders and developed starting plan (Apr 2020)
Letter sent to 3 owners of 5 tracts along possible route to share trail objective – Beth Heile, FVR (May 2020)
E-mail sent to town managers about trail – Beth Heile, FVR (May 2020)
WPCOG will hold stakeholders meeting in July – John Wear, WPCOG will organize/lead
Meeting at VLP – present: Doug Setzer – BCPS Director of Auxililary Services, Wendi Craven – BCPS Board of Education, Averi Ritchie – WPCOG Planner, Larry Bragg – Natural Land Alliance, Representative Hugh Blackwell, Scott Carpenter – Deputy Burke County Manager, Doug Knight – Valdese Parks and Recreation Director, Shane Gardner – Principal DHS, Doug Hallyburton – Assistant Principal/Athletic Director, Beth Heile – Friends of the Valdese Rec (June 22, 2020) Summary
Pre-Stakeholders Meeting to review maps – Todd Stroupe, John Wear, Averi Ritchie, Alsion Adams, Taylor Dellinger, Beth Heile – (July 1)
Stakeholders Meeting #1 – via Zoom – Present: From WPCOG – Averi Ritchie, Todd Stroupe, Johnny Wear, Alison Adams, Taylor Dellinger, Brian Horton), Representative Hugh Blackwell, Doug Setzer – BCPS Director of Auxililary Services, Scott Carpenter – Deputy Burke County Manager, Shane Prisby, Burke County, Beth Heile – Friends of the Valdese Rec, Katherine Christie (Burke Tourism), Sherri Bradshaw (Drexel Town Manager), Logan Shook (Hildebran Town Manager), FVR Trail Blazers – Reed Farrar, Zakk Heile – Todd Stroupe presented the study area and scoring used to rank parcels. Attendees discussed overall goal of path and possible routes. (July 29th)
Rutherford College Segment Meeting – Representative Blackwell, Mayor Gary McClure, Kenneth Geathers, Jr., Beth Heile, Averi Ritchie, John Wear, Todd Stroupe (August 17) Summary
Stakeholders Meeting #2 – via Zoom – Map Presented and Photo Slides of stops/problem areas discussed – Present: From WPCOG – Averi Ritchie, Todd Stroupe, Johnny Wear, Taylor Dellinger; Representative Hugh Blackwell, Doug Setzer – BCPS Director of Auxililary Services, Shane Prisby, Burke County, Beth Heile – Friends of the Valdese Rec, Katherine Christie (Burke Tourism), Logan Shook (Hildebran Town Manager), Rick Justice (Rhodhiss Town Manager), Brittany Watkins (Foothills Conservancy of NC), Doug Knight (Valdese Parks & Recreation),  FVR Trail Blazers – Reed Farrar, Zakk Heile (August 19, 2020)
Rhodhiss Segment Meeting – Representative Blackwell, Town Manager Rick Justice, Beth Heile, Averi Ritchie, Todd Stroupe (August 24) Summary
Hildebran Segment Meeting – Representative Blackwell, Town Manager Logan Shook, Beth Heile, Averi Ritchie, Todd Stroupe, Erin Schotte (August 26) Summary
Town of Drexel Meeting – Manager Sherri Bradshaw, Representative Blackwell, Beth Heile, Averi Ritchie, Todd Stroupe. Summary
City of Morganton Meeting – Manager Sally Sandy, Morganton Parks and Rec Director Rob Winkler, Development & Design Services  Director Phillip Lookadoo, Project Designer Michael Berley, Richard Smith, Civil Design Technician III, Mark Hall, Civil Design Technician II,Representative Blackwell, Beth Heile, Todd Stroupe. Summary
Stakeholders Meeting #3 – via Zoom – Sept 30 9:00 am
Starting Map that got the ball rolling: