From Jan 30 to Feb 27, 2023, FVR collected information via a Google Survey form about Valdese Lakeside Park. The link was provided on our web site, on Facebook and at our events. We had 82 responses from the following areas: 39 Valdese, 8 Morganton, 8 Connelly Springs, 6 Rutherford College area, 5 Granite Falls, 3 Hickory and one each from Drexel, Old Fort, Vale, Banner Elk, China Grove, Concord.
Thanks to everyone who participated that will help understand how the park is being used and what is needed. Here are the results: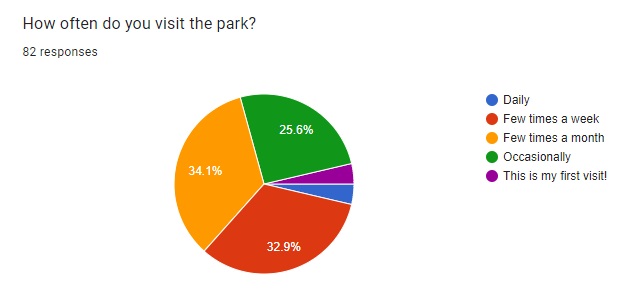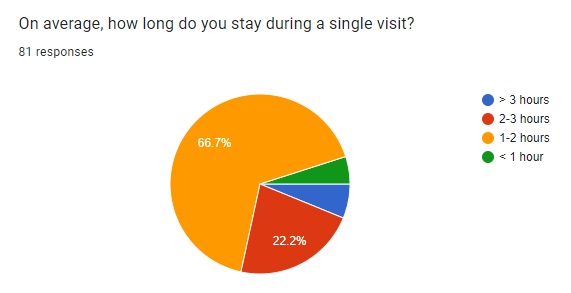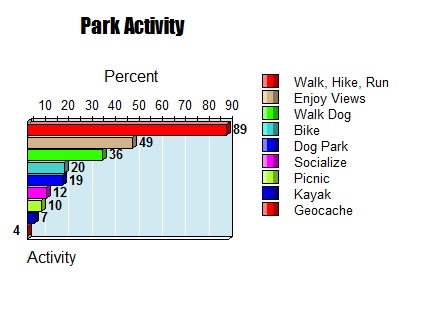 ---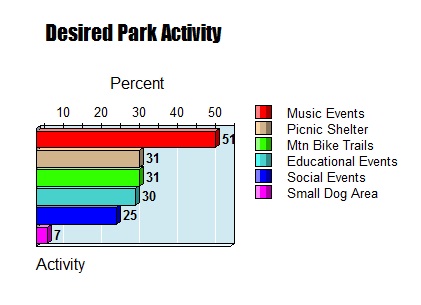 ---
Question was: What keeps you coming to the park? Favorite Trail? Is there a new amenity that would bring you back more often? (Realize now that was very opposite questions!)
Greenway, Hoyle creek and orange are my favorites
Great place to walk, enjoy outdoors, not having to worry about getting run over on highway and its local
Well maintained trails
Views, fresh air
Outer Loop. Mountain bike trails
The variety of trails / Accessible to Morganton residents
All of the forest trails
The closeness to home. Ease of Walk. VIEWS
Hiking…. exercise… geocaching
More trail mileage that is designed sustainably and provides a better experience
It's a wonderful, well maintained park, close to home
The terrain variation
Those cameras
extremely safe, it's nearby, there are a variety of trails and enough pavement for strollers and bikes.
The views and seeing the dogs and children and people. Outer Loop and Highland
Hoyle creek is my favorite
Just exploring all the trails and especially purple it is so beautiful and a handful to bike at times which I love.
I can not wait for the mountain bike only trails to come out!
Beautiful trails, scenery, close to home
Nice trails for running
Better access for kayak launch
More mountain bike specific trails and increased mountain bike trail mileage.
Peaceful, well-maintained
Well maintained trails. Convenient location.
It is close to home, the trails are wonderful. I love the park and feel fortunate to have it so close to where we live.
Beauty of lake and excellent area to walk
Close by, being out in nature
Trails
Not a lot of people throughout the week. But that has changed over the last few months
I live in Morganton and use the Greenway here for walking usually, but I LOVE your trail and go there sometimes.
Hiking trails
Play areas for children. Well maintained trails; clear marking for trails.
Purple and the green trails
I love the trails. My favorite trail is the Tributary Trail
Lake views
Red, orange and pink are favorite trails.
I'd like a map of the trails that has all the amenities on it as well that I could carry with me.
Greenway Trail
Peacefulness of the setting
an accessible kayak launch. The trails are all very nice
Proximity to my home, great trails for my family & dog & easy parking
Weather & travel
Walking trail
Would definitely love to see an area that accesses the water! Somewhere my dog could easily swim maybe
Beautiful
It's. Beautiful
Dog park
Local great park with great views and trails
My family likes to skip rocks and look for rubber ducks.
Disc golf would bring me there every week
Being by the lake, the views, the llama llama red pajama trail is so cute! People hiding the ducks- finding them and re-hiding them! All the trails are so nice
The well maintained trails and views of the lake.
The location of the park to my house and how safe/clean it seems.
It's very well done. Would definitely use a canoe launch
Wildlife, excercise, peace and quiet.
We love walking the greenway
The scenery and the overall tranquility of the park
Love the scenery
Beautiful and everyone is very welcoming and the trails are clean and feel very safe
Wonder views of river/lake. A bench out at meditation point.
Watching the positive progress
It's shaded, clean, safe. I would love a trash spot along the trail to throw away my dog's waste bags.
3 want kayak launch
---
Other Comments
Guided wildflower hike with a certified Naturalist.
Can't Wait for the Kayak launch to be built.
My favorite park!!
Just 5 miles of true mountain biking would be good. Get more visitors
Clear the red meadow of trees for the animals
It would be nice to put a bench near the inspiration point, looking out at the water.
Love this park! It's a hidden secret in Burke County that's so peaceful
Great job on this park I look forward to using it for years to come!
Thank you for all your work!
I love this place and see it has true potential.
Very grateful and appreciative of all the efforts by so many for this park!
I would like more signs & better enforcement of the "dogs must be on a leash" policy. I was bitten at the park by an unleashed dog & have been startled several times by loose dogs.
Love the park
I tend to go more often in spring/summer/fall.
Love this place. Red trail is too hard because i have physical disabilities but have done it a couple times. Benches through there would be great.
Thank you for making this park
Thanks to all involved. It's a beautiful park
Would love to help plan for bluegrass/acoustic events in the park.
I used to go all the time, but I saw a rattlesnake last Spring on the outer loop trail
We'd love to get involved more at the park
A large amount of dogs off leash. Not sure what could be done about dogs off leash
Thank you, we are so blessed to have this awesome park!!
Wondering when the waste water plant side will be completed to the bridge?
Thanks for all you do!