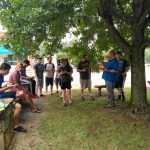 Valdese parks (our hidden gems) are used everyday for recreation and relaxing – nothing new. The recent crowds at our parks are new.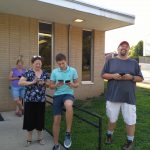 This is thanks to the phone app Pokémon Go. In the game, several of our parks serve as Pokémon  Stops (where virtual goodies are collected) and Pokémon Gyms where battles against Pokémon characters are fought.
In July, the feature of a group raid was added. Depending on the strength of a Pokémon, winning a battle may require up to 20 people to be on location working together.
These group raids, taking 5-20 minutes on site, have brought people together from all walks of life. From kids to war veterans to business owners to line workers to hospital employees to teachers.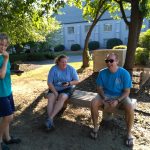 With players meeting almost daily over the past weeks, bonds have been created as they learn more about each other. Some players spill their story upon a first meeting. Some take weeks to share a single detail.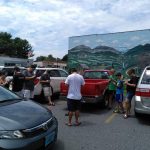 Players then run into fellow Pokémon trainers (as they are called in the game) at work, school and while running errands. They have helped each other get jobs, learn about different life options (from tips to starting middle school to joining Toastmasters), and reach other personal successes.
The social time with these new and unexpected friendships has been an amazing "feature" of the game.
Thankfully, the Town of Valdese and the Parks and Rec Department are welcoming to the players.  Folks from Valdese and Morganton enjoy spending time at these gyms.  And, Valdese is benefiting from their need of gas and snacks while they are here.