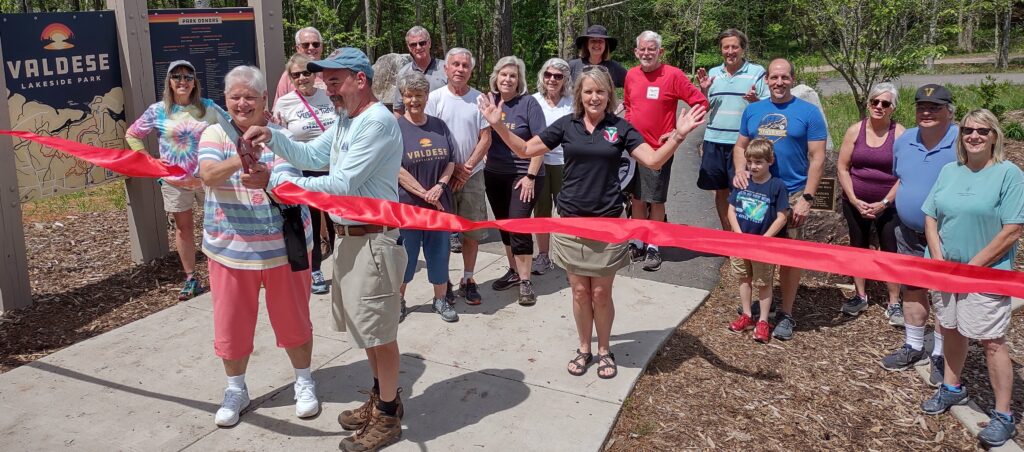 Friends of the Valdese Rec (FVR) held an NC Year of the Trail grand opening group walk on Sunday, April 16 to celebrate the completion of the Valdese Greenway. The entire 2-mile greenway is now crushed cinder for an easier walk along Lake Rhodhiss and McGalliard Creek. In 2021, one mile of the former grassy sewer easement was upgraded while the other mile remained grass. In 2022, with the McGalliard Creek Suspension Bridge installation it became obvious upgrading the entire path was the next amenity most desired by park attendees. Friends of the Valdese Rec raised the $250K needed for improvement with donations from the Rostan Family Foundation, NC State Grant assisted by Rep Hugh Blackwell, Dianne Searcy and many individual and small business donors.

To explore the greenway on your own, start at Valdese Lakeside Park (1149 Lake Rhodhiss Dr) or McGalliard Falls Park (400 Falls Rd). Each park has restrooms, picnic tables and parking. The McGalliard Creek Bridge is located 0.5 miles from McGalliard Falls Park and 1.4 miles from Valdese Lakeside Park.
FVR has 2 more Sunday events scheduled for April at Valdese Lakeside Park. On Sunday, April 23, there will be a group hike on the newly volunteer built Lakeside Loop starting at 2pm at the restrooms. On Sunday, April 30 the Shelby Rae Moore Band will play on the Open Green from 4-6pm. The free concert is sponsored by FVR and attendees need to bring a chair or blanket for seating.
Side note on picture: The two folks cutting the ribbon are the second and third participants to complete the FVR365 Challenge that started on January 1. Participants signed up to walk 365 miles in 2023 for Year of the Trail with as many miles as possible completed at Valdese Lakeside Park. Left – Debbie Shuman and right, Wes Presnell