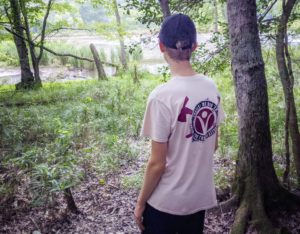 In January, Friends of the Valdese Rec started building a sustainable trail at Valdese Lakeside Park. Volunteers learned there was a big difference between existing deer trails and the techniques used to build a lasting trail. A sustainable trail has minimal impact to the natural area, does not adversely affect wildlife, manages water flow and requires little long-term maintenance.
With Draughn High School students joining the trail building workdays, Beth Heile, FVR president, started exploring ways to get trail building classes into Burke County Schools. The classes would provide students a skill relevant to our region and hopefully keep students in the county after graduation – either working on trails professionally or volunteering on trails. While starting the process of contacting people, schools closed, and the future is uncertain. School Board Member Wendi Craven was once contact who was interested in exploring the idea when school was back on track. While Heile, Craven and DHS principal Shane Gardner were in a meeting regarding the Burke River Trail this week, they decided the best course of action for now is to start a trail building club under FVR's guidance. In the future it may move into a school sponsored club or the curriculum used in a new or existing class.
The trail club will include
Classroom work – sustainable trail layout, construction, and maintenance – using the book "Trail Solutions" as a guide
Field work – building and maintaining trails in the area
Following the Burke River Trail process from start to finish – learning to get trail easements from property owners, meeting with officials to plan the trail corridor, laying out trail, building and beyond
Hearing from speakers in trail related fields –planners with government agencies and private firms, botanists, trail building companies, GIS map specialists
Field trips – go hiking together on area trails to see and discuss methods used
The first meeting of the Friends of the Valdese Rec Trail Blazers Club will be Tuesday, June 30 at 10 am at Valdese Lakeside Park. This will be an informational meeting where high school students can find out more about the club and see if it is for them. Students will walk the new trail built by FVR volunteers and get a brief overview of sustainable trails. All beginning activity will take place within a half mile. After the meeting, attendees can go on an optional guided hike along other trails of the park.
Second Meeting will be Tuesday, July 7 at 10 am at Fonta Flora County Park.
Shane Prisby, Community Development Operations Manager, will cover the Fonta Flora State Trail history, trail construction, his career path and other nuggets of wisdom.
The Trails Blazers Club is open to any high school student in Burke County. The club will meet every other week. The dates and topics will depend on work available, speakers available, meetings needed to attend and weather. There is no cost.