Just in time for Read Across America Day, and to celebrate NC Year of the Trail, Friends of the Valdese Rec held the ribbon cutting for their new Story Book Trail at Valdese Lakeside Park. The home school community was invited to take part in the

celebration that included walking the new trail that showcased the Dr. Suess book The Lorax, and crafts and refreshments with The Lorax theme. The Story Book Trail is made up of 16 pedestals that hold pages of a book giving visitors the chance to read and be out in nature. The pedestals were made possible with a $3840.00 grant from the Community Foundation of Burke County, a $1,000.00 donation from the Pilot Club of Valdese, $1,000.00 from FVR including 10 volunteers working 4 days to install the pedestals. In addition, FVR will purchase and update the book each month. To experience the trail, visit Valdese Lakeside Park at 1149 Lake Rhodhiss Dr, Valdese. Once there, take the Greenway to the Meditation Point Trail that is just past the Dog Park.
---
Story from July 21, 2022—–
Which is more important – getting your kids outside or having them read a book?? Why not do both! With help from Pilot Club of Valdese, FVR is applying for a grant to make our temporary Story Trail permanent.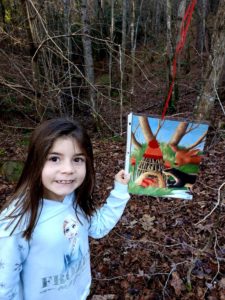 How it all started: FVR (with the help of The Mercer Family) donated 25 conservation themed children's books to the Valdese Library in Feb 2020 to start a monthly Conservation Kids program. Then covid hit and the program never started. In the fall, FVR had some outdoor pop-up kid reading events as a try at the program, but with many still having concerns, attendance was low.
About the same time, FVR President Beth Heile saw where a local town was putting pages of a book in store fronts to bring shoppers to town. She thought the same thing could be done at Valdese Lakeside Park. To replace the pop-up group book events, in December 2020, FVR started the temporary story trail that families could visit at their convenience, and socially distance. It was a huge hit and families were begging for a new book each week. After 4 months, the park main entrance was closed for construction, but FVR picked up the Story Trail again in February 2022.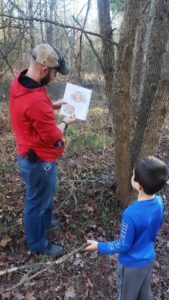 Here are some comments we have received about the Story Trail:
"A great way to get my kids outside and moving without complaining!" ~Becky
"We love reading the new stories on a regular basis! My son gets so excited when there is a new one!" ~Leslie
"I don't have children but I enjoy seeing the kids stop along the way and read!" ~Chris
"I am a teacher so I love this idea. My little red head LOVES to see what book is next. He goes to Lakeside often with his Grana to enjoy the trails so the story trail is an added bonus." ~Lisa
"This is such a great tool to keep the kiddos walking outside. Each "station" leads to the next adventure in the books and on the trail. Love this concept!" ~Karen
In the beginning our temporary story trail was "cute" – book pages in laminated sheets hanging with ribbon from trees. But, with wind and rain, sometimes pages get blown away or get wet. Sixteen pages flapping in the wind also looks a little unkept now that phase one construction is complete with real amenities and real signage.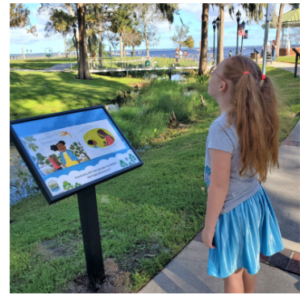 The grant will provide a pedestal system that will provide for (shown to left)
Cleaner Look
No lost or wet pages
Easier for volunteers to change
The cost will be $4960.
$4640 (16 pedestals x $290 each)
$200 (shipping)
$120 (16 bags of concrete)
Funded by
$1000 Pilot Club of Valdese
$120 Friend of the Valdese Rec (plus volunteer hours of installation, purchasing future books and changing  books)
$3840 Applying for a Grant from CFBC