Representative Hugh Blackwell has been named Public Lands Conservationist of the Year by NCWF.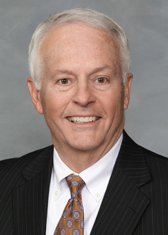 NC Representative Hugh Blackwell (District 86) has been a trailblazer in preserving thousands of acres in western North Carolina by increasing the miles of trails, leaving a legacy for future generations.
A State Trail can only be created by authorization of the General Assembly. Blackwell worked with NC State Parks and sponsored bills for three State Trails – Fonta Flora State Trail (Morganton to Asheville), Wilderness Gateway State Trail (Baker's Mountain to Chimney Rock) and Overmountain Victory State Trail (SC line and TN line to Stone Mountain). After the passing of the bills, the number of State Trails from grew from six to nine.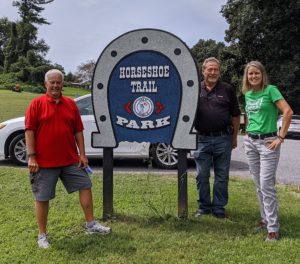 Going one step further to ensure the success of state, regional and local trails, Blackwell sponsored the "Designate 2023 as Year of the Trail" bill and co-sponsored a trail funding bill. Both bills are through the House moving along the legislative process.
Representative Blackwell does not just sit in Raleigh signing bills for others to do trail work. He got his boots on the ground when he followed through on his vision of a trail along the Catawba River in his district. He arranged for the Western Piedmont Council of Governments to conduct a trail feasibility study. As part of the study, Representative Blackwell led 10 site visits to municipalities and landowners to explain the trail, its benefits and gather support.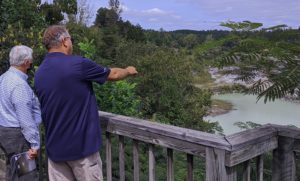 One visit was to Vulcan Materials, who eagerly agreed to allow the trail to cross their property. They also committed to add educational signage and provide trail materials. The Morganton Vulcan Campus is NCWF WAIT certified, and they made a significant contribution to the local NCWF Chapter – Catawba River Wildlife Coalition after the visit which included CRWC President Beth Heile. As a respected legislator, Blackwell's relationships with Duke Energy, NCWRC and others have been key in gaining cooperation and support for the new regional trail. Because of the strong foundational work, the volunteer-led Burke River Trail Association was formed and is continuing to move the trail forward.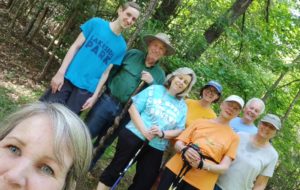 Blackwell has also been incredibly involved with the Valdese Lakeside Park project where he lives. The 300-acre forested property on Lake Rhodhiss was purchased with the assistance of state grant money for which he wrote letters of support to NCLWF and PARTF. He took time to learn about the no-rise study needed at the park for a bridge crossing and secured funding for the study and expense of updating an inaccurate state flood map of the area. He can often be found hiking the park trails when he is in town. This passive park is an asset for his Tier 1 county and provides a chance for locals to explore and learn about the outdoors with no expense.
Trails may not be the first thing to come to mind when thinking about the NCWF mission of "protecting, conserving and restoring North Carolina wildlife and habitat." But given another thought, it makes perfect sense. Trails help preserve wild places, provide connections between broken habitats and protect plant and animal species. Today, people want to use protected outdoor space –not just protect it and forget it. Exposing more individuals to the outdoors will allow them to fall in love with nature and want to do more to protect and conserve.
Testimonials from those who have worked with Representative Blackwell: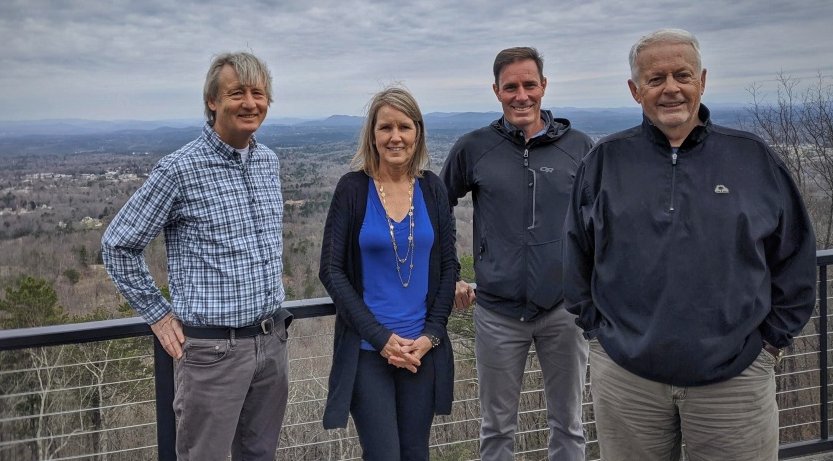 "Blackwell's support and enthusiasm for the new Wilderness Gateway State Trail has resulted in Foothills Conservancy, Town of Valdese, and NC State Parks conservation land acquisitions of 3,300 + acres (to date) in the Catawba and Broad River Basins of WNC between the Cities of Hickory, Newton-Conover, Valdese and the communities of Vein Mountains and Thermal City near US 221. These lands will host 40 + miles of public trail in the future with the goal of eventually reaching Chimney Rock State Park." Tom Kenney, Land Protection Director, Foothills Conservancy of NC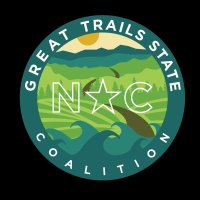 "Representative Blackwell has worked with the Great Trails State Coalition on two efforts. He was the primary sponsor of the "Designate 2023 as Year of the Trail" bill that passed the House unanimously and is expected to soon pass the Senate. He also a co-sponsored a trail funding bill to provide support to non-profits working on state and regional trails. We are grateful for him serving as our champion in the House of Representatives." Kate Dixon, Executive Director, Friends of the Mountain to Sea Trail and Co-Founder, Great Trails State Coalition
"Representative Blackwell has been a tireless supporter of bringing new recreation opportunities to Burke County, Western North Carolina, and the State as a whole. 490 acres have been conserved in the process of building 20 miles of Fonta Flora State Trail and there is more to come." Shane Prisby, Interim Planning Director, Burke County Community Development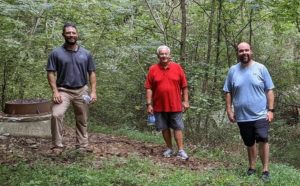 "Representative Blackwell has advocated for conservation, parks, and trails in his district and promoted the public benefits of conservation and water quality protection throughout the State of NC for as long as he has held office. He has earnestly listened to the concerns of the people and conservationists in his district and beyond, and has backed stable and increased funding for the state conservation funds programs (NC LWF; ADFPTF; PARTF) to ensure our natural, historic, & cultural heritage sites, farms and waterways are preserved for the people of North Carolina now, and for the generations to come. His leadership and foresight in proposing and sponsoring legislation for enhanced public trail funding and for new state trails such as the Wilderness Gateway and Overmountain Victory trails has been invaluable. Representative Blackwell has also championed public conservation projects developed by Foothills Conservancy of NC, including the Oak Hill Community Park & Forest, and Friends of Valdese Recreation, through strong letters of support and by sharing his connections at the local, state and federal levels." Andrew Kota, Executive Director, Foothills Conservancy of NC
"Representative Blackwell was a primary sponsor of legislation creating North Carolina's Overmountain Victory State Trail (NCOVST) which follows the paths our patriot militia took after they mustered in 1780 in order to fight the Battle of Kings Mountain–which proved to be a pivotal in our Revolutionary War. NCOVST includes 225 miles of the roughly 330 miles of the Overmountain Victory National Historic Trail which extends from Virginia and present-day Tennessee over the "highest point of the American Revolution" at Yellow Mountain Gap on Roan Mountain through NC to just south of our border with SC. Representative Blackwell's leadership with respect to the NCOVST is enabling North Carolina to make–not only an exciting regional and state contribution to trails and conservation – but also an exciting national contribution. This is particularly important as we approach our 250th Anniversary of the American Revolution. We all need to be thanking Representative Blackwell for his leadership." Bryant Lindsey, Burke County, Overmountain Victory Trail Association Board Member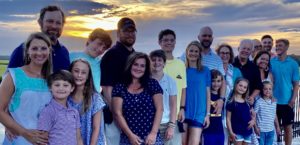 At home, Representative Blackwell and his wife, Ann, raised their four children in the outdoors teaching them to enjoy and respect our natural resources. From family camping trips (with an annual trip to Black Mountain) to frequent hikes around western North Carolina's mountains and lakes to being at home recyclers and repurposers to supporting local conservation efforts, the Blackwells demonstrated conservation principles. As a result, their three sons are Eagle Scouts, and have made their own contributions to beautifying and maintaining our natural resources with Hugh and Ann's support. One son is now a local scout leader – with one of his already an Eagle Scout and another getting closer. Even more special is now that love of nature is being passed on to 10 grandchildren who can say their grandfather is a big reason that thousands of acres have been protected. Talk about leaving a legacy!
The above nomination essay was submitted to NCWF by Beth Heile –
Friends of the Valdese Rec, President and Founder
Catawba River Wildlife Coalition, President (an NCWF Chapter)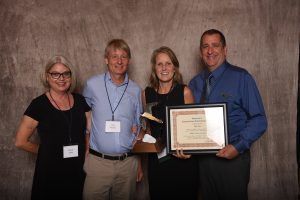 Heile was the recipient of the 2018 NCWF Wildlife Volunteer of the Year – Governor's Conservation Award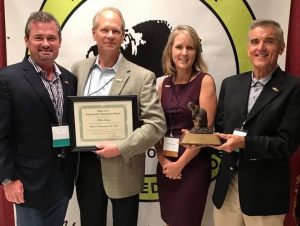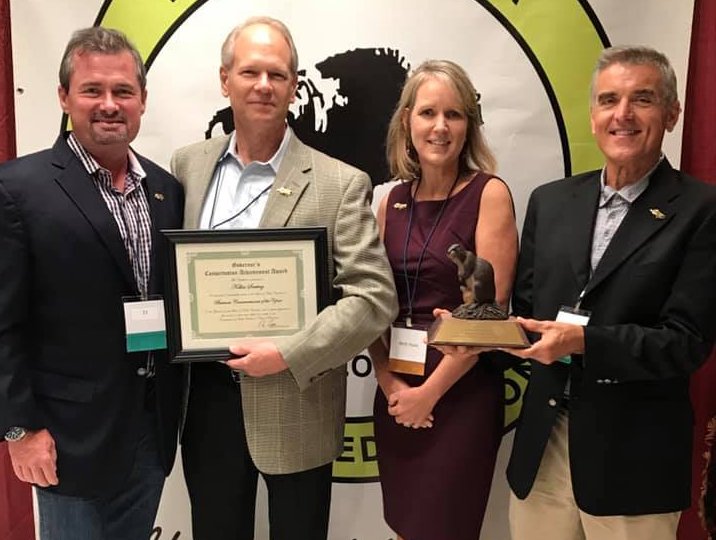 Kellex Seating received a 2019 Conservation Award from NCWF for Business of the Year.