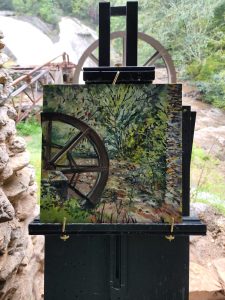 Thanks to a grant from Burke Youth Organized Philanthropists, 36 children (K-5) will learn the art of Plein Air Painting from a professional instructor at the kick off of the Valdese Plein Air Fest during Friends of the Valdese Rec's Free Family Fun at the Falls. En plein air is a French expression meaning "in the open air", and refers to the act of painting outdoors with the artist's subject in full view.  Kids will take home a completed 8×10 canvas board painting and their extra paints. Photographs will be taken of their work, printed and placed along the Story Book Trail at Valdese Lakeside Park for a "gallery showing" in time for the adult artists' show on September 17 at the Old Rock School.
Taking place on September 9 at 10:30 am this year, the annual FVR Free Family Fun at the Falls has attendance of approximately 200 people for crafts, outdoor educational programs and hot dogs. Kids will move from activity to activity 10:30 until 11:30 am. The painting lessons start at 11:00am for those present and interested. Located at 1400 Falls Road in Valdese the park includes a picnic shelter, restrooms, volleyball court, creek and the beautiful McGalliard Falls. It is also a terminus for the 2-mile Valdese Greenway.
In 2022 Friends of the Valdese Rec, Rock School Arts Foundation, and Town of Valdese started the Plein Air Fest to highlight Valdese parks and introduce park goers to art. In planning for the 2023 event, organizers wanted to include children. The art lesson, starting at 11:00 am on September 9 is one way kids are being included, the other is a free Chalk it Up sidewalk chalk art event from 2 -4 pm at the Valdese Family Splash Park, 312 Massel Ave SE.
Other park events during the week include
Sept 9, 2:00 FVR Greenway Walk starting at McGalliard Falls with rides back
Sept 12, 7:00 am FVR Coffee and Conversation on The Greenway. Park at the Valdese Lakeside Park entrance.
Sept 9-16 Look for artists working on their masterpieces at Valdese Parks
The grant covers the cost of 36 canvas boards, 36 water color paint sets, instructor time, and color copies. Easels are being built by a RSAF supporter.