Our inaugural 5 and 10K trail runs at Valdese Lakeside Park were a success. $1000 was raised for amenities at the park – and even though the Dollar for Dollar match challenge from a donor had expired – it was extended for the race – giving an extra $1000 to park amenities.
Top Finishers: (all results)
10K Top 3 Male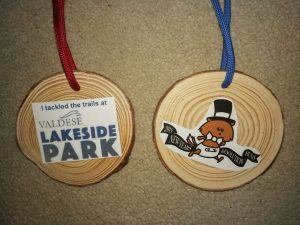 Sonni Dyer
Robert Murray
Mike Darling
10K Top 3 Female
Melissa Darling
Amy Alexander
Leslie Chapman
5K Top 3 Male
Tucker Marshburn
Mark Ownbey
James Gravely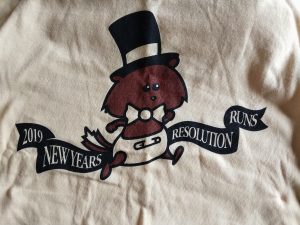 5K Top 3 Female
Melanie Mikusa
Lindsay Sain
Annette Brinkley
Instead of metal medals, we used homemade log slices.
Chipmunk was the critter this year – it will be different next year.
Next year is already being planned – Wednesday, January 1 at 9:00 am.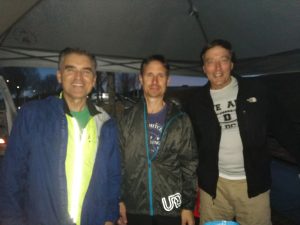 Thanks to our Race Director Mark Rostan (middle), Course Manager Ray Burris (right), Asst Course Manager Quez Little (left)
Volunteers: Zakk Heile, Bradley Zimmerman, Rachel Watts, Justin Smith, Donald Brittain, Eric Heile, Spence Borden, Woody Poor, Jeanene Burris, Beth Heile
Sponsors: Friends of the Valdese Rec, Valdese Rec Department and Draughn High School