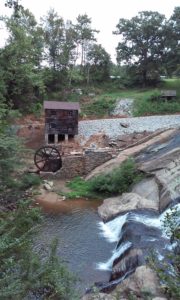 In the early days, the Waldenses, who settled Valdese in 1893, enjoyed walking to the Falls on Sunday afternoon – in their church clothes – for a picnic of bread, cheese and fruit. Children would also swim in the area below the Falls.
In 1906, Fred Meytre built a watermill local farmers. Unfortunately, it was destroyed by a flood in 1916. The mill was rebuilt using a turbine and continued operating until 1941. Mr. Meytre was getting older and many workers were being called to serve in WWII. The mill was once again rebuilt in 1982 to get the water wheel turning. The wheel you see today was manufactured onsite to replace the one that was crushed by a tree that fell on the previous wheel in 2016.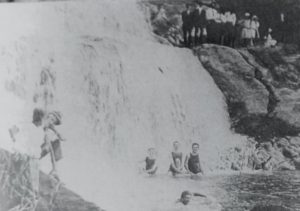 McGalliard Falls Park –
The park opened in 1982 with the following features (some you still see) – 2 overlooks, picnic shelter, 4 tennis courts, 2 softball fields, nature trail, playground and the bridge across the creek. Governor Jim Hunt attended the dedication ceremony with Mayor Ray C. Fletcher, who was instrumental in making the park a reality. Before the land became a park, it had been the home of the town dump and a granite quarry before that. Funding for the park came from The Town of Valdese with a matching grant from the Land and Water Conservation Fund.
Grist Mills
In the early 1900s, most communities had a single grist mill. They could grind wheat into flour or corn into corn meal. All area farmers brought their sacks of wheat or corn to be ground and the miller kept a percentage of the result as payment. In a water powered mill, a sluice gate allows water to flow onto the water wheel to make it turn and control the process. To see the water wheel in action, visit the first Saturday of each month April through October, 10 am – 6 pm.