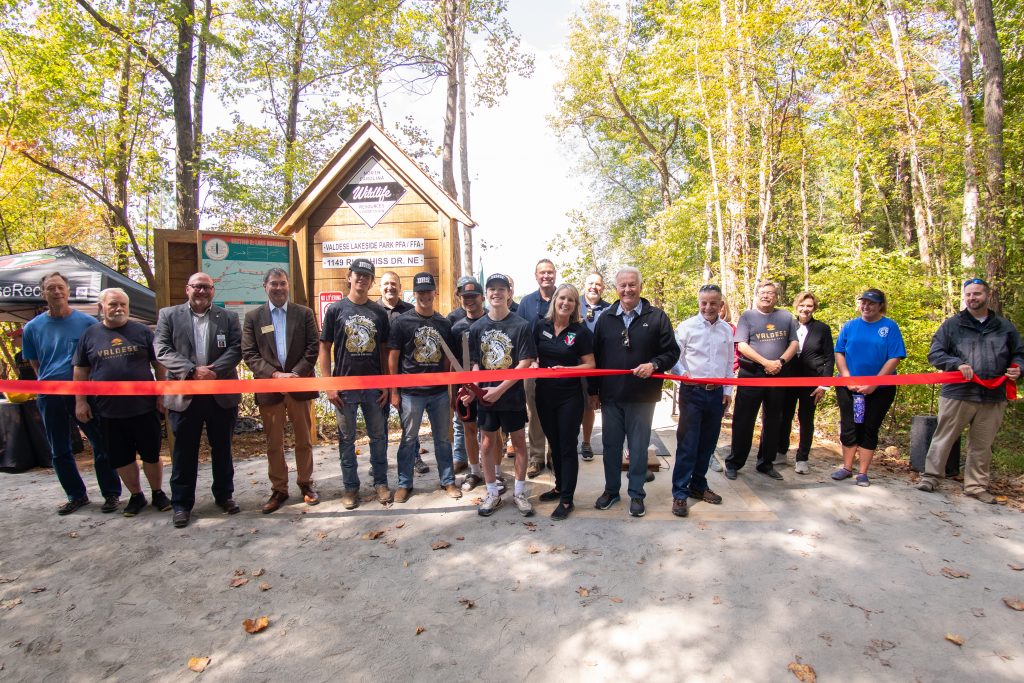 This long-awaited amenity on Lake Rhodhiss is now open for everyone to enjoy. Designed and built by North Carolina Wildlife Resource Commission (NCWRC), the $200,000 pier was funded by an NC Parks and Recreation Trust Fund (PARTF) Grant, NCWRC and community donations.
Friends of the Valdese Rec (FVR) organized a celebratory ribbon cutting with activities for everyone. The Draughn High School Fishing team was present to demonstrate best fishing techniques and discussed the types of fish in Lake Rhodhiss. A new local business in Valdese, Rads Rentals offered free kayaking to anyone who wanted to give it a try. The company leases kayaks to the public and will deliver them to Valdese Lakeside Park and other accesses along the lake. FVR and Foothills Conservancy of NC provided crafts for the children about 40 from the home school community. Following the theme the kids painted wooden fish, built boats and decorated log slices. They were also able to visit the Story Book Trail that had a book about fishing. Materials were also provided regarding obtaining a NC fishing license and fishing rules.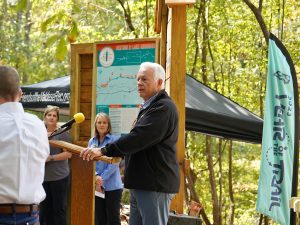 Mayor Charles Watts welcomed the crowd of 150 which included BCPS Superintendent Dr. Swan, Burke County Commissioner Chair Scott Mulwee and the majority of the Valdese Town Council. He shared how important Valdese Lakeside Park is to Valdese with an average attendance of 400 per day. He also thanked Beth Heile and Friends of the Valdese Rec for all their work for making Valdese Lakeside Park a reality. Rep Hugh Blackwell (NC House 86) discussed the economic impact trails have across the state and how fortunate we are in Burke County to have an abundance of natural resources. As Blackwell was the primary sponsor of the state bill that declared 2023 the Year of the Trail in NC, it was fitting he was in attendance as this kayak launch is an access on the Upper Catawba River Paddle Trail. The launch is accessed by the co-located Valdese Greenway, Burke River Trail and Wilderness Gateway State Trail.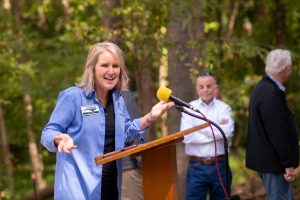 Beth Heile spoke at the podium representing two different organizations, even changing shirts mid presentation to indicate a change in roles. First, as a member of the NC Parks and Recreation Trust Fund Authority that grants state funds to local governments for parks noting that the Town of Valdese received a $300K PARTF grant to help with the 300 acre land acquisition of the park and a $285K grant for phase one amenities. She thanked the town for being good stewards of state money which shows legislators there is a great need for local park funding. Heile said, "Parks are not a nicety – they are a necessity – for health, quality of life, economic development opportunity, conservation, recreation and more."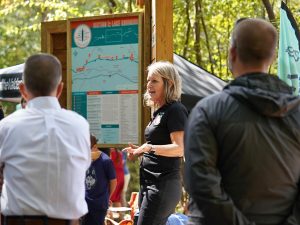 Next, Heile made remarks as Friends of the Valdese Rec President and Founder. She said, "Good things come to those who wait. We have been working with NCWRC on this amenity since 2017." Heile thanked Rep Blackwell for his ongoing assistance with projects at Valdese Lakeside Park which have gotten stuck a few times when FVR needed help finding gap funding and making connections with the right department. The showcase ADA pier that cost more than a usual project was due to Blackwell's work with NCWRC.
Heile closed by saying, "Often parks are built for community and a town will say here you go people, we did this for you. But in this case, this time, this park was built by the community with 220 donors giving to the park and over 3500 volunteer hours."
Valdese Lakeside Park located at 1149 Lake Rhodhiss Dr, Valdese is open dawn to dusk. The fishing pier with kayak launch is 0.2 miles from the parking lot along the greenway. ADA access to the pier starts at the Valdese Lakeside Park parking lot at a paved ADA parking space, onto the greenway and then to the sidewalk down to the pier with some lower railing sections for fishing access.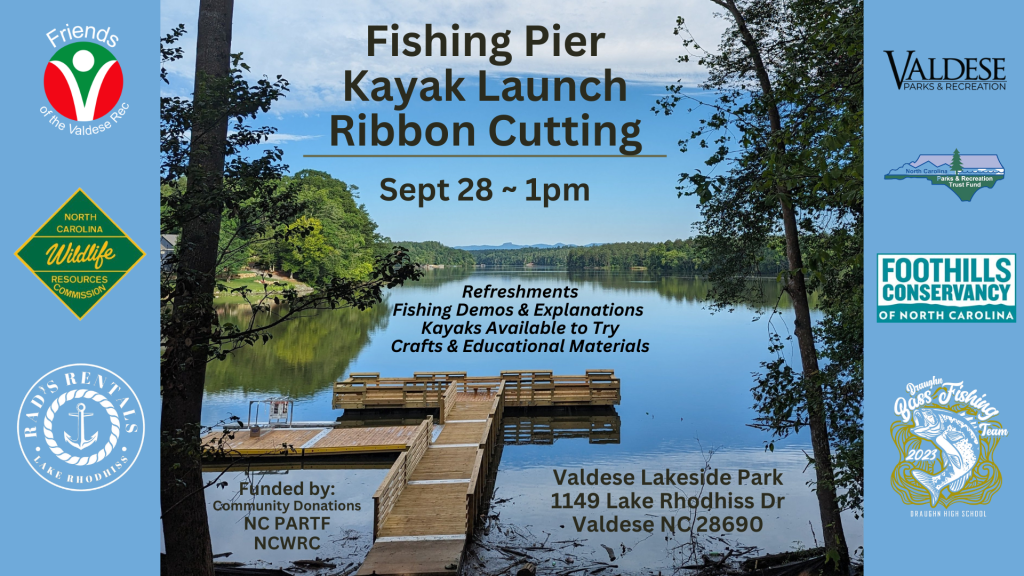 Friends of the Valdese Rec has organized a grand celebration for the opening of the Kayak Launch and Fishing Pier at Valdese Lakeside Park. Come out on Thursday, September 28 at 1pm to try a kayak and learn fishing techniques. There will be crafts for the kids and educational materials for all.