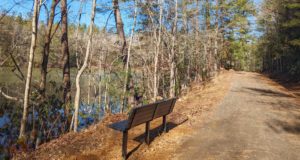 Our furniture is here!
Thanks to a $7,051.89 grant from the Community Foundation of Burke County, we have nine benches along the greenway at Valdese Lakeside Park.  People of all ages, abilities, and backgrounds visit the park to walk and enjoy the views. FVR felt if they had a place to rest, many would come more often and stay longer.
In the grant application, FVR wrote about phase one construction of the park: There are no benches planned along the greenway. It will be like getting your first apartment and not having furniture to go in it. The community is enormously proud of what they have been able to do so far…. Please consider giving our community a gift and surprise them with the "furniture" needed for the greenway.
We asked folks for some feedback on the new benches –
Cheryl Elliott McCarthy – I just had spinal surgery in July and now have 3 titanium screws in my SI. I am benefiting greatly from the benches that have been installed along the greenway as I build up my endurance. Thanks so much!
Leslie Huss – I like how you spread them out on the trail. My son likes to take frequent snack breaks, and if we are on the Greenway trail, we can usually count on one being close by.
Joyce Williams Long – I love them. Due to leg and back issues I have to rest a lot and was having to sit on the ground. Now with these benches i have a better place to rest a bit.
Anita Randall Morgan – I think it's a great asset to bring the older folks out knowing there are places to stop and rest if needed
Cindy Miller Greene – Nice for a break with a breathtaking and relaxing view. A beautiful place to be surrounded by God's nature.
Helena Jolanta – Love them. They are good quality, pretty and installed well. I use them as markers for my runs on the Greenway.
Tamika Wade Garrison – They are wonderful. A nice place to reflect and rest.
Steve Berry – Love them great place to take a break and beautiful views
Ronnie Davis – Love them. Gives people a place to rest and enjoy the beautiful scenery
While the CFBC grant covered the cost of the benches, FVR covered the $250 needed for quikrete and concrete blocks. As for installation, that was a group effort.
The arrival – Upon ordering, it was indicated there was no loading dock and the shipping company needed to provide equipment to unload the truck. Their unloader broke and they showed up with nothing. Thankfully, our phase one park construction company was on their lunch break and used their equipment to unload the pallets trailer. The contents had also broken loose in shipment and had to be restacked.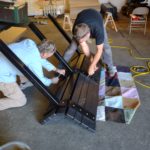 Some assembly required – In the bench description, we thought that meant – put the legs on. But it really meant, put the 3 legs by attaching 9 slats. The bench pieces were taken from the park to a local warehouse for Johnny Poteat and Eric Heile to start assembling.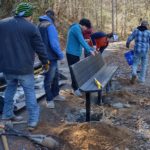 The installation – Draughn High School construction classes took on the installation of the benches. They had a patient instructor with Mr. Brackett, strong students and the equipment to move the quikrete. Over three days, four different classes came over from DHS to install the benches. On the last day, FVR treated the students to breakfast or lunch – depending on their class time.
The benches have been a great success.  People are able to go further and stay longer with the comfort of knowing they will be able to take a break. Park attendance is now at 175 visitors a day!