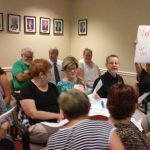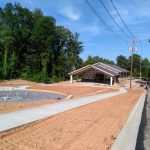 The Downtown Park – with a splash park, multi-purpose building, playground and parking has been in the works for a while. It was almost lost when bids originally submitted were increased when it came time to build.
At the August 2016 Town Council Meeting a vote was to be held as to whether the town should get a loan to go forward or cancel the project.  Thanks to the community for making a SPLASH! Because 20 some people attended the meeting in support and the 5 community members who spoke in support during the open forum – the council members voted unanimously to approve the loan to complete the splash park and multipurpose building.
In December 2016, members of Friends of the Valdese Rec were invited to a special meeting regarding the new Valdese Downtown Park. (Membership has its benefits.)
This park is financed by USDA Rural Development with help from the Kate B Reynolds, Rostan Family Foundation, and PART F.