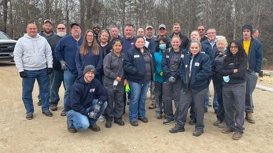 Valdese Lakeside Park was the beneficiary of Bimbo Bakeries' Good Neighbor Program for 2021. Not only did Bimbo Bakeries fund new landscaping at the park, twenty-eight employees spent the day installing the plants around the new parking lot and soon to be dog park.
Over 5 hours, 84 plants including hydrangea, magnolia and roses were installed using 2 huge loads of top soil and 30 cubic yards of mulch.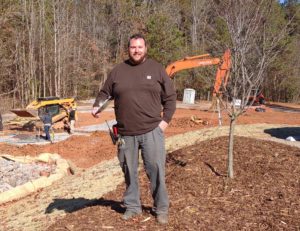 Settlemyre Nursery was chosen to organize the day, which actually started over a week in advance. Friends of the Valdese Rec President Beth Heile met with owner Brandon Settlemyre at Valdese Lakeside Park to discuss the budget and areas that needed landscaping.  After that meeting, Settlemyre designed the layout of plants that would work best in the environment. The day before the official Bimbo Bakeries Workday, Settlemyre employees delivered and placed all the plants in their designated planting spot.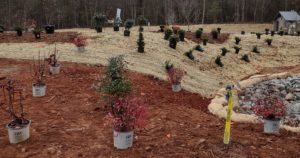 On Friday morning, the huge Bimbo crew made up of employees from the Valdese plant sanitation department and the area sales team arrived ready to work. After receiving planting tips from Settlemyre, attendees got to work and were joined by two Settlemyre employees and three FVR volunteers.
Mandi Shepherd, talent manager for Bimbo Bakeries, leads the Good Neighbor Program. Shepherd remarked, "I am thankful to work for an organization who is strongly committed to giving back to the communities where our associates live and work. The Good Neighbor Program is always one of my favorite work days. We look forward to continuing the partnership we have developed with the Town of Valdese & Friends of Valdese Rec, investing in the community for many projects to come!"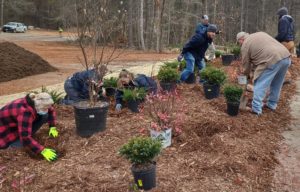 The project was funded by Bimbo Bakeries with $5,000, Friends of the Valdese Rec with $831.87 and over $800 donated from Settlemyre Nursery in supplies and labor.
"We love being able to help out in the community and especially right here in our hometown of Valdese. Working with Beth and Friends of the Valdese Rec, to design & develop the Valdese Lakeside Park Landscaping was such a satisfying project. To see a local business donate not only time, but fund the majority of this project shows our community how involved area businesses are of Valdese. Thank you to Bimbo Bakeries & Friends of Valdese Rec for teaming with Settlemyre Nursery to bring this project to life," said Brandon Settlemyre about the project.
Looking over the finished landscape, Heile said, "Partnerships are key in making our community better. Having a good neighbor like Bimbo Bakeries took needed landscaping to a whole new level and we are grateful for their support."