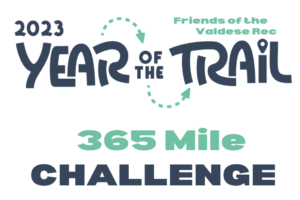 Challenge yourself in 2023 to get out on a Valdese Trail!! #FVR365
Walk. Run. Hike. 365 Miles in 365 Days.
$10 Registration
Long Sleeve t-shirt at beginning
Prizes for completing 365 miles
Everyone will be able to see your progress
Get miles in Valdese (parks, streets, treadmill) – as much as possible
January 1 – December 31, 2023
To get started use the Form to provide (Registration is CLOSED)
Trail Name (or real name) that will be shown to public
Your Email address
T-shirt size
Send your $10 by mail, paypal, facebook, etc.
You can start the challenge anytime in 2023…… and add your past miles.