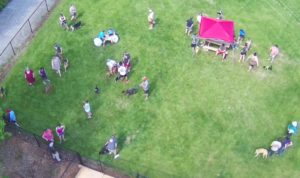 Quarter acre fenced grassy area for dogs to run free.
Still accepting donations for amenities.
---
Dog Park Donors ($50 or more)
Farris Insurance
Mull Foundation
Rostan Family Foundation
The Beagle Nation
Zeke Farris
Mr. B's Fun Foods
Bark Side Pet Grooming
College Pines Health & Rehabilitation
Burke County Board of Realtors
Junk In The Trunk Thrift Shop (Michael & Jennifer Setzer)
Animal Hospital of East Burke
Abby & Baxter Clack
Annie, Willow, Winnie, Salem, Hazel, Miller, Brinkley, and Ruger Pittman
Cub Scout Pack 202
Spot Carothers
Cathy Deal
Pig Dog Killerman
WNC Orienteering Club
Rudy Knight
Jasper Watts
Lucy Heile
Trooper Zimmerman
Ghost and Jacko Fletcher
Madison, Riggs, and Finn
Sadie Byers
Biden Teffeteller Kitching
Fenway and Abbey Jones
Chance, Hank, and Cooper Woody
Azul & Reba Simpson
Tyson  & Brandy Deal
Biggz & Tater Cline
Truvy Bradley
Tater Jarrett
London Elizabeth Reiss
Sammy Byrd
Dude, Dorothy, Jeff and Jane Gravel
Birdie, Ellie and Patches Thompson
Scout Johnson
Gaston & Wade Garrison
Louie Whisnant
Kay Draughn
Burke Animal Services Foundation, Inc.
**We have an additional $2000 from the Barry Crawford, and Whoopi, Memorial Bone
---
Why are dog parks so great?
To see your fur baby have the time of his life – running at full speed, zig zagging with other dogs, playing fetch – all without the constraint of a leash.
Socializing with pet parents – sharing training tips, vet and groomer recommendations and just talking about the weather.
Human and canine heading home mentally refreshed and physically tired.
FVR has hosted Tails and Trails group walks on the greenway for owners with leashed dogs. With the fenced park we are looking forward to Bark in the Park events with contests, pet education stations, rescue groups and more.