A 300-acre natural park maintained by Friends of the Valdese Rec. There are no restrooms, no formal parking lot. But, there are 4-5 miles of trails for hiking and mountain biking, you can fish from the bank, picnic at the tables, launch a kayak  from the shore and enjoy the views. Directions to the Park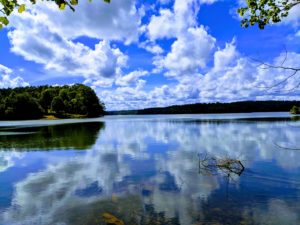 Phase 1 Amenities will include 4000 lin ft of greenway, restrooms, picnic area, dog park, wildlife viewing platform, kayak launch, walking trail to viewing platform, parking and entry road. The funding comes from grants (PARTF and DEQ) and community donations. No town money is being used. Ground breaking is set for 2020.
A 150-foot bridge over McGalliard Creek is needed to complete the 2-mile greenway from Valdese Lakeside Park to McGalliard Falls Park.  Donate Today to help with amenities and the bridge.
Valdese Lakeside Park is also along the route of the Wilderness Gateway State Trail that will connect Baker's Mountain to South Mountain to Chimney Rock. It will also be a part of the Catawba River Trail.
Valdese Lakeside Park Features (Proposed)
Greenway Trail
Bridge connecting McGalliard Falls Park
Kayak/Canoe Launch
Fishing pier
Picnic Area
Restrooms
Parking
Dog Park
Wildlife Viewing Platform
Open Green
Additional Hiking Trails
Mountain Bike Trails (7 miles of trails possible – can also walk/run)
Mountain Bike Pump Track
Disc Golf Course
Multigenerational exercise equipment
Natural Playground (ideas)
Paved Walking Loop
Observation Tower (ideas)
Aerial Video of 300 Acres by Tony Lee Glenn
Valdese Lakeside Park Slide Show for Nov 3, 2017 Celebration thanking all involved in the land purchase.
The early Valdese Lakeside Park Plan covers the history of this project, benefits of the park and details of the park. It was created by FVR and used to generate initial interest in the project.
Timeline of FVR Starting and VLP Project
To ensure this is the "people's park," input meetings were held for groups listed below (Nov – Feb 2018) and feedback taken again at the draft plan presentation on April 3 by  Destination by Design.