Awarded PARTF Grant for Park Amenities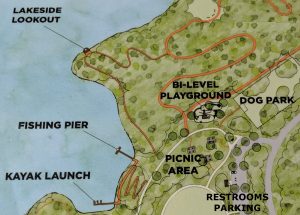 On August 23, the Town of Valdese received a grant for Valdese Lakeside Park – Phase 1. The $285K PARTF Grant is for restrooms, picnic area, dog park, wildlife viewing platform, kayak launch, walking trail to viewing platform, parking, entry road at Valdese Lakeside Park. The DEQ awarded grant and community donations will cover the match.
We are waiting to hear from one more grant – the RTP Grant that would help fund the bridge over McGalliard Creek to complete the greenway from Valdese Lakeside Park to McGalliard Falls Park.  Donate Today to help with amenities.
Valdese Lakeside Park Features (Proposed)
Trail and Bridge connecting McGalliard Falls Park (DEQ Grant)
Additional Hiking Trails
Mountain Bike Trails (7 miles of trails possible – can also walk/run)
Mountain Bike Pump Track
Disc Golf Course – 18 hole – Championship Level
Kayak/Canoe Launch (PARTF grant)
Picnic Area (PARTF grant)
Open Green
Fishing pier
Educational Viewing Platform (PARTF grant)
Multigenerational exercise equipment
Natural Playground (ideas)
Restrooms (PARTF grant)
Parking (PARTF and DEQ grant)
Dog Park (PARTF grant)
Paved Walking Loop
Observation Tower (ideas)
(Grant Funding – PARTF and DEQ –  has been secured for some of the items listed above and will be a Phase 1 Build – breaking ground in Spring 2020)
Aerial Video of 300 Acres by Tony Lee Glenn
Valdese Lakeside Park Slide Show for Nov 3 Celebration thanking all involved in the land purchse.
The early Valdese Lakeside Park Plan covers the history of this project, benefits of the park and details of the park. It was used to generate initial interest in the project.
Timeline of FVR Starting and VLP Project
To ensure this is the "people's park," input meetings were held for groups listed below (Nov – Feb 2018) and feedback taken again at the draft plan presentation on April 3 by  Destination by Design.