Your Donation will be Tripled!
Your Gift
+ Matched by Mull Foundation
+ Matched by Farris Insurance = 3X
The dog park, located at Valdese Lakeside Park, will be as big as donations allow. We are targeting a 2 acre dog park with amenities like a shaded picnic shelter and dog obstacles.
The J Alex and Vivian G. Mull Foundation Charitable Fund awarded FVR a grant for fencing — if we raise $5000 from the community. For extra motivation, Farris Insurance Agency will match community donations up to $5000. By March 31, we could be at $15,000!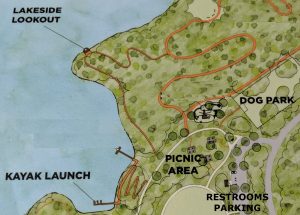 ---
Dog Park Donors ($2175 total donated– need $2825 to reach match)
Zeke Farris
Abby & Baxter Clack
Lucy Heile
Pig Dog Killerman
Trooper Zimmerman
Ghost and Jacko Fletcher
Spot Carothers
College Pines Health & Rehabilitation
Madison, Riggs, and Finn
Donors of $50 or more will have their name (or their dog's name) listed at the dog park area.
---
Why are dog parks so great?
To see your fur baby have the time of his life – running at full speed, zig zagging with other dogs, playing fetch – all without the constraint of a leash.
Socializing with pet parents – sharing training tips, vet and groomer recommendations and just talking about the weather.
Human and canine heading home mentally refreshed and physically tired.
FVR has hosted Tails and Trails group walks on the greenway for owners with leashed dogs. With the fenced park we are looking forward to Bark in the Park events with contests, pet education stations, rescue groups and more.
Fence installation will start after Valdese Lakeside Park Phase 1 construction is mostly complete beside the area close to the future dog park.